Sounds of motown
The Motown Groove
Here are some examples of songs performed by a wide array of Motown artists, including Marvin Gaye, Stevie Wonder, The Temptations, The Supremes, The Marvelettes, Gladys Knight and the Pips, Four Tops, Smokey Robinson and the Miracles, and the Jackson 5. When trying to learn about and understand Motown Record's impact on music and culture, it would be incomplete without listening to and viewing live performances of the iconic acts. Not only do these videos allow you to hear examples of classic Motown songs, but they also depict the quality with which Motown artists dressed, danced, and performed during their songs. These videos embody and capture the unique quality and essence that is Motown.
please Mr. postman - the marvelettes
shop around - smokey robinson & the miracles
My Girl - The Temptations
you can't hurry Love - the supremes
I heard it through the grapevine - Gladys knight and the pips
baby i need your loving - four tops
ain't no mountain high enough - marvin gaye and tammi terrell
what's going on - marvin gaye
signed, sealed, delivered - stevie wonder
i'll be there - jackson 5
Powered by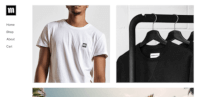 Create your own unique website with customizable templates.